Adding technology to a preschool or kindergarten classroom is always a little bit tricky. You have to walk a fine line. On one hand, we know that when delivered in the right fashion, technology instruction can be beneficial for young children. On the other hand, we want to be certain that we aren't just adding unnecessary screen time to the lives of kids who may already be spending far too much time on devices and watching TV. Here are six ways you can add technology to your early childhood classroom that encourage free play and problem solving.
1. Recycle Old Tech in Your Play Center
You know that flip phone that's been in your drawer forever? Now's the time to break it out! Put out a call to friends and parents for outdated (but safe—for example, with batteries removed) technology. In our classroom, we have a basket of old electronics that the children can pull out during their creative playtime. Because young children are so flexible in their thinking, a cordless phone from the '90s can easily become today's most fashionable smartphone. Recently in my classroom, as I was cleaning the turtle tank, I found myself surrounded by half a dozen children who had grabbed those old cordless phones from our pretend play area and were using them to "take pictures" of me and the turtle. They were "texting" the pictures to one another and their parents and using rich language to describe what was in the photos. It's this kind of creative play and problem solving that we look for in an early childhood classroom. Adding in technology, even at this most basic level, allows children to explore how they fit in with technology in the wider world.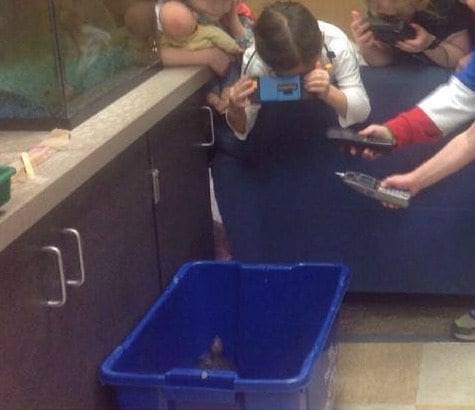 Children pretend old phones are smartphones and use them to take pictures and send texts.
2. Model Good Tech Habits for Kids
Whether you're demonstrating a concept for the class, or working with children while they play, you can use these times to teach them how to use and care for technology equipment. Because we live in an age where, quite literally, adults walk around with their smartphones attached at the hip, it's essential that when we introduce young children to technology, we also teach them that there is a world that exists beyond our smart devices. For young children, working with a variety of "real" hands-on materials is more important than using electronic devices. Absolutely take advantage of the big screen that comes with sharing a story on the digital projector, but then be sure to allow children time with regular-size, individual books as well.
Another way to model good tech habits for kids is during free play time. I don't know about you, but I'm always getting pretend phone calls from my students. This is the perfect time to work in good technology manners. Make a big deal about setting your pretend phone down to have a face-to-face conversation. Talk about carrying your device carefully so that it doesn't get broken. Maybe even cut your pretend call short so that you can get some exercise or go for a run. We all know that the very best way to reach young children is through their play. This is true for concepts about technology as well.
3. Combine Technology and Active Outdoor Time
Mobile devices have made it so much easier to keep kids active while they're using technology. Because they are portable, it's easy to take them along whether we're working inside or outside. Our iPads often find their way outdoors, especially during science lessons. Taking an iPad on a walk in the woods makes it easy for even pre-literate children to document their observations to create a field journal full of images. They can either photograph or sketch what they see in the wild. Some apps will even allow kids to include narration with their images, adding a verbal language component to the activity.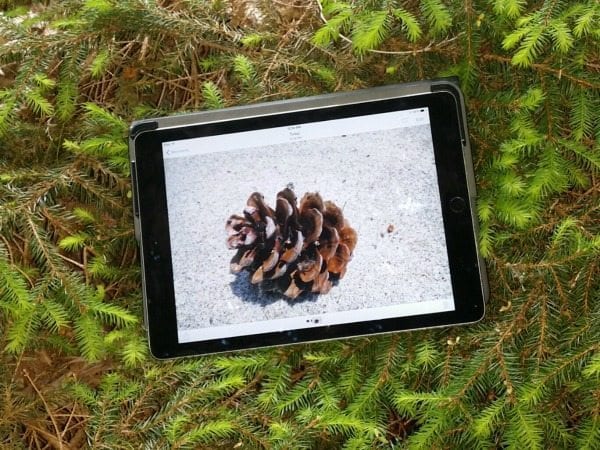 Taking technology into the world.
4. Choose Apps That Help Children Build and Create
Children love to build and create. It's why the block corner and art center are always two of the most popular places in our classroom. We can create a technology program where the primary focus is also building and creating. It's all in choosing the right apps and programs for your devices. Make sure to purchase apps that encourage creativity and construction rather than passive game playing. It's been my experience that given a choice, students will actually gravitate toward the apps that promote creative thinking rather than the boring "drill and practice" games. My students love MOMA Art Labs, a free app from the Museum of Modern Art, and Imagi Box. Both apps let kids draw pictures and write stories on the iPad. They are the first apps that many children open. Kodable is another favorite. It's a problem-solving app that also teaches children the basics of computer programming. They thrive on the challenges that Kodable throws at them.

A preschooler's artwork from an open-ended writing app on the iPad. It's a drawing of what she planned to build with K'nex building toys.
5. Create a Take-Apart Center Where Kids Can Explore Like Engineers
There is no shortage of technology castaways. With a community that has become obsessed with having the latest and greatest new technological toy, there is always plenty of old hardware floating around waiting for a new life in a preschool deconstruction center. Collect a few old pieces, taking care to remove batteries or other dangerous components, and let the children take a shot at disassembling them. Provide screwdrivers and pliers and I guarantee that your kids will have some of your old tech appliances disassembled in no time. Some of the world's top engineers got their starts this way! There is much to be learned from simply studying the printed circuit board you find inside an old computer. As a bonus, your students will be developing their fine motor skills.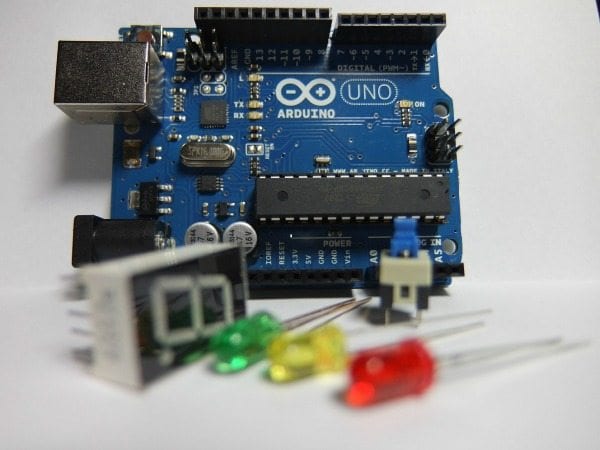 Computer parts for exploration.
6. Encourage Kids to Collaborate With Tech
The best tech is shared tech. Research has shown that children who collaborate and work in pairs on an iPad benefit more than those who work independently. So set up your classroom accordingly. Just like you do with any element of an early childhood classroom, think carefully about the environment you create for learning. Make certain that there is enough room for several children to work together on a task. What we're looking for is opportunities to encourage conversation between children. We want to get them talking about the work they're doing so that they can collaborate on those creative projects that they're building. Did you know that even the top technology firms look for engineers who can communicate and collaborate? Kindergarten and pre-K teachers specialize in teaching kids how to talk to one another. We need to make sure it's happening during technology time too. Oh, and don't forget that you should be partnering with children during their technology play too.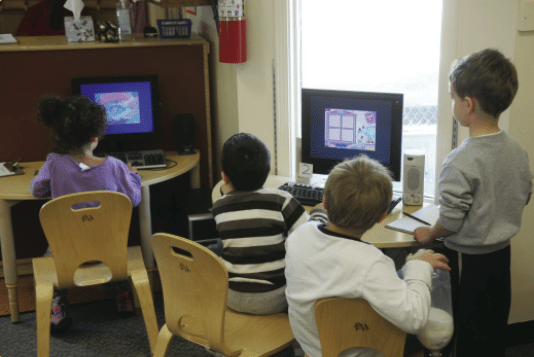 Looking for more ideas for using technology in your early childhood classroom? Be sure to explore this resource from HighScope. Also, check out HighScope's website resources, all free to educators.