Economic Assistance for San Diego Businesses Affected by COVID-19
To ensure the resiliency of local businesses and assist in job retention, the City of San Diego established a Small Business Relief Fund (SBRF) to provide grants and forgivable or low- to zero-interest-rate loans to eligible small businesses for working capital. The goal of the SBRF is to help businesses retain employees and sustain continuity of business operations impacted by federal, California, San Diego County and local emergency declarations regarding COVID-19.  
Applications submitted between 5 p.m. on Friday, March 27, 2020, and 5 p.m. on Tuesday, March 31, 2020, are under review. Business owners will be notified of the next step. More than 6,500 applications were received during this period and in excess of the funds available.
Companies or individuals interested in learning more about how to donate to the SBRF, please contact the Corporate Partnerships and Development Program at [email protected]
Seed funding and support provided by:
California Coast Credit Union
Qualcomm
San Diego Grantmakers
About the Small Business Relief Fund
The goal of the SBRF is to help businesses retain employees and sustain continuity of business operations impacted by federal, California, San Diego County and local emergency declarations regarding COVID-19. Approximately $6.1 million is available in the SBRF, which is being administered by the City of San Diego Economic Development Department.
Financial assistance, in the form of grants and loans, will range from $10,000 to $20,000 and will be allocated to eligible, qualified small businesses based on the availability of funds, program guidelines and the submission of all required information and supporting documentation.
Businesses that are NOT eligible to request or receive SBRF financial assistance include, but are not limited to:
Lending and investment institutions and insurance companies
Golf courses, race tracks or gambling facilities
Nonprofit entities
Businesses engaged in any illegal activity per local, state or federal regulations with federal regulations taking precedence over local or state regulations.
Home-based businesses
Chain stores
Businesses with more than 100 Full-Time Equivalent (FTE) employees as of Feb. 28, 2020.
Applications
Once an application has been submitted and determined eligible for funding, business owners will be asked to include backup documentation, including but not limited to:
IRS Form W-9
Recent Tax Returns
Bank Statements
Current Balance Sheet
Additional Economic Resources
The establishment of the SBRF is in addition to other steps the City is taking in consultation with–and at the direction of–County of San Diego public health officials to help people affected by and prevent the spread of the global pandemic known as COVID-19.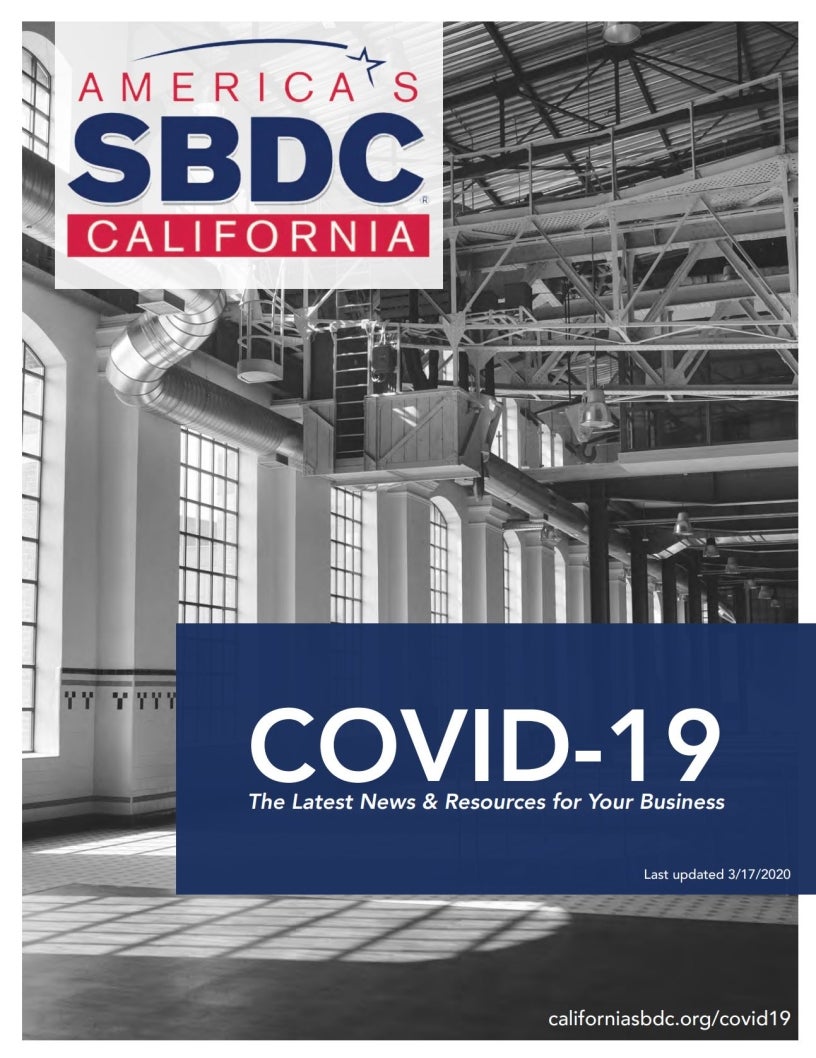 On March 18, 2020, Mayor Kevin L. Faulconer unveiled and outlined the City's economic relief package that reduces fees, provides certainty and offers support to local employers. (Read the full press release.)
"Businesses are following public health orders, and we recognize this has an impact. This relief effort is about restoring some balance to the current situation," Mayor Faulconer said. "San Diego businesses are making a necessary sacrifice while bearing a tremendous burden as they comply with these orders. We're taking aggressive action today to help businesses stay afloat and continue to pay as many employees as possible."   
Businesses are advised to reach out to their nearest Small Business Development Center (SBDC), which has developed the Small Business Survival Resources Guide to help business owners navigate through the chaos COVID-19 is having on our communities.
SBDC can help with applying for relief, guiding you through available resources and assisting with cash flow concerns, supply-chain interruptions, workforce capacity, insurance coverage and more–all at no cost. Register for free SDBC one-on-one business counseling.
Additionally, please consider the following federal and state resources listed below. We will continue to update resources as they become available.
---
U.S. Federal Support
CARES Act (Coronavirus Air, Relief and Economic Security Act) addresses the economic impact of COVID-19

19 and dedicat

es $350 billion towards small businesses. This federal stimulus act was signed into law on March 27, 2020 and enhances the Economic Injury Disaster Loan (EIDL) program and created the Paycheck Protection Plan. Learn more. 

An on-demand webinar from the San Diego & Imperial Small Business Development Center (SBDC) details the EIDL and PPP, offering guidance on how to comply your EIDL application. Signup to watch the 30-minute webinar. 

Small Business Administration (SBA) offers business assistance to impacted businesses. Find opportunities for local technical assistance.

Small Business Administration Disaster Loan Program offers $7 billion in low-interest loans to businesses, renters and homeowners located in regions affected by declared disasters.
Economic Injury Disaster Loan (EIDL) is a direct loan from the US Federal Government. Any small business can apply, with very limited exclusions. Independent Contractors, freelancers, gig workers, home-based businesses and any other sole-proprietor can apply. Nonprofits can also apply. The loan is for working capital to pay your business operational expenses, not to expand your business. It can be used to pay an owner their draw or wage for their living expenses. Economic Injury Disaster Loan Emergency Advance will provide up to $10,000 of economic relief to businesses that are currently experiencing temporary difficulties within 3 days of a successful application. Apply for the Economic Injury Disaster Loan.
Paycheck Protection Plan was created by the CARES Act to support COVID-19-impacted small business owners and their employees by providing loans, that can be forgiven, in support of payroll expenses, mortgage, or rent. This program becomes available on April 3. Here are some details:

Loans are from banks or other lenders. You should first reach out to your bank if they offer the program. Find a lender.
Small businesses or nonprofit 501(c)(3) organizations in operation prior to February 15, 2020 and paid employees or paid independent contractors under 1099 are eligible. You are also eligible for a PPP loan if you are an individual who operates under a sole proprietorship or as an independent contractor or eligible self-employed individual, you were in operation on February 15, 2020.
Loans amounts cannot exceed $10million. Loan amounts are based on 2.5 times your average monthly payroll. Payroll is fully loaded, included payroll taxes, insurance, group-health, and retirement. Payroll in excess of $100,000 per employee is excluded, but the pay up to $100,000 for that employee is included. Forgiveness of the loan would be done on demonstrated payroll, rent, mortgage, or utility costs made by the small business between Feb 15, 2020 and June 30, 2020.

Small Business Debt Relief will pay the principal, interest, and fees of current 7(a) loans for a six-month period and of new 7(a) loans issued prior to September 27, 2020.
SBA Express Bridge Loans enable small businesses with a business relationship with an SBA Express Lender to access up to $25,000 quickly.
SBA is also providing guidance for employers to plan and respond to COVID-19.

Internal Revenue Services (IRS) is offering Federal Income Tax Extensions.
Centers for Disease Control and Prevention (CDC) offers interim guidance for businesses and employers to plan, prepare and respond to coronavirus.
Department of Labor OSHA has guidance on Preparing Workplaces for COVID-19.
---
California State-Level Support
On April 2, the Governor issued new directives to provide relief for small businesses and workers displaced by COVID-19. Relief plans include allowing small business owners to defer sales and use tax payments for up to $50,000. Learn more.
---
San Diego Region Support
County of San Diego: Coronavirus Disease 2019 (COVID-19) information.

Jewish Community Foundation San Diego will offer relief to support to those out of work and vulnerable communities through its COVID-19 Emergency Fund

South County Economic Development Council is offering emergency 0% interest loans to restaurants in San Diego's South County.

The San Diego Foundation is offering emergency grants to nonprofits in food security, rental and utility assistance, and income replacement or gap funding through its COVID-19 Community Response Fund

San Diego Immigrant Rights Consortium, a project of Alliance San Diego, will provide grants of up to $500 to immigrants in San Diego County who have lost all or part of their income due to COVID-19 through its Immigrant Relief Fund.
San Diego Workforce Partnership offers information and services that may assist employers who are forced to consider work stoppages, layoffs or furloughs. Also, SDWP has resources for impacted employees, including unemployment Insurance information, tax assistance, a work-sharing program to avoid layoffs, financial planning, remote career services and more.
Minority Humanitarian Foundation launched the MHF Immigrant Relief Fund to provide grants of $250 for immigrants in San Diego County who have lost all or part of their income due to the coronavirus pandemic.
---
Additional Support
California Scope
National Scope