You're ready to stake your claim, meet your goals, build your future. With First Internet Bank, you get the services and support you need — anywhere and anytime — to guide you to success. Experience what it's like to bank on your own terms.
Compare our rates
Have some cash to stash, but still want access to your funds? As our highest yield savings option, First Internet Bank's Money Market Savings account earns 1.61% APY — more than 10x the national average!*​​​​​​
*As of 3/16/2020, the national average for Money Market Savings accounts is 0.15% APY,as published in the FDIC's Weekly National Rates and Rate Caps; average rate used is for deposits up to $100,000. The minimum average daily balance to avoid a fee for a Money Market Savings account is $4,000. Rates are subject to change. Fees may reduce earnings on the account. Interest earned assumes entire amount remains on deposit.
open an account
Deposit $10,000 in a First Internet Bank Money Market Account $162 in interest over 12 months
vs. national average: $15
Deposit $50,000 in a First Internet Bank Money Market Account $811 in interest over 12 months
vs. national average: $75
Deposit $100,000 in a First Internet Bank Money Market Account $1,622 in interest over 12 months
vs. national average: $150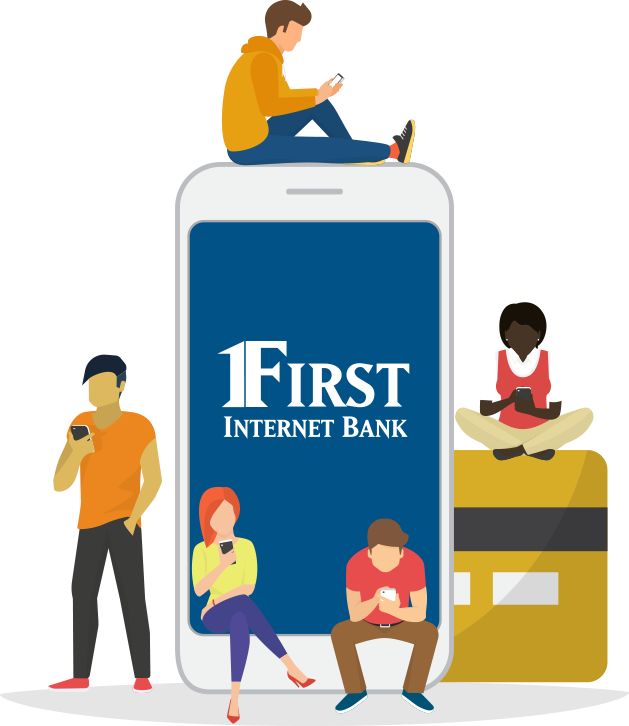 First Internet Bank delivers
We're here with the expertise, services and commitment to help you build on your dreams, big and small.​​​​​​​
Everything you need – nothing you don't

It's simple arithmetic: with no overhead burden from branches, we can give you better rates and lower fees. You do the math.

Convenient and comprehensive banking solutions

You can have it all, from personal banking and lending (high yield checking and savings accounts, plus debit and credit cards) to commercial banking and lending (deposit products, competitive lending options), all in one place for maximum convenience.

Branchless bank with a national reach

We do business and have customers in all 50 states, so we can help you manage your money from home, work, an airport terminal or anywhere in between. We go wherever life takes you.

A banking team like no other

At First Internet Bank, you'll find a remarkably diverse team unified by a singular vision: banking​ ​can ​be​ ​more.​ ​Do​ ​more. See how we deliver on that vision every day.
Don't just take our word for it
"I've been a customer with First Internet Bank since it started. Banking with you has been great. I love the convenience, and yet at the same time the personal service was there when I needed it. Thank you for being a great place to bank."– Maria A, Customer email
"First Internet Bank takes the time to understand our business. They're careful listeners, which is something we appreciate. Like us, they're in the solutions business. That's why we love working with them."– Mark R, co-owner at California Closets Indianapolis
"I started using First Internet Bank in 2014 because of reading about their Free Checking account program. They were so quick and easy to setup and use online that I also opened a Free Savings account. They have free transfers between accounts, free online bill-paying, and an easy to use iScan check deposit system which allows me to simply scan my paycheck and upload the image in order to deposit it to my account. I have never had any problems with them and will probably use them forever."– Dusty H, DepositAccounts.com review
"Fantastic bank. Great People. Have been extremely impressed with the emphasis they place on client satisfaction. Wouldn't hesitate to recommend First Internet Bank to anyone looking for world-class customer service and professional banking needs."– Allen W, Google review
"I've been banking with First Internet Bank for over 10 years… Their customer service has never failed to understand, address, and solve any problem I've faced and probably with a quicker and smoother turnaround time than any of the 'big' banks."– Matthew L, Facebook review
"I opened a saving account last month. The staff is incredibly friendly and the interest rates are amazing for saving accounts. Every time I go to make deposits, I am handled quickly and professionally. I am highly considering dropping Chase entirely and going with this bank full fledged. Fantastic people!!! I only wish I started a relationship with them much sooner!"– Cross P, Google review
Want to talk?
Contact one of our U.S.-based Relationship Bankers and get answers stat!