A Hell of a Campaign
May 4, 2020 – TF2 Team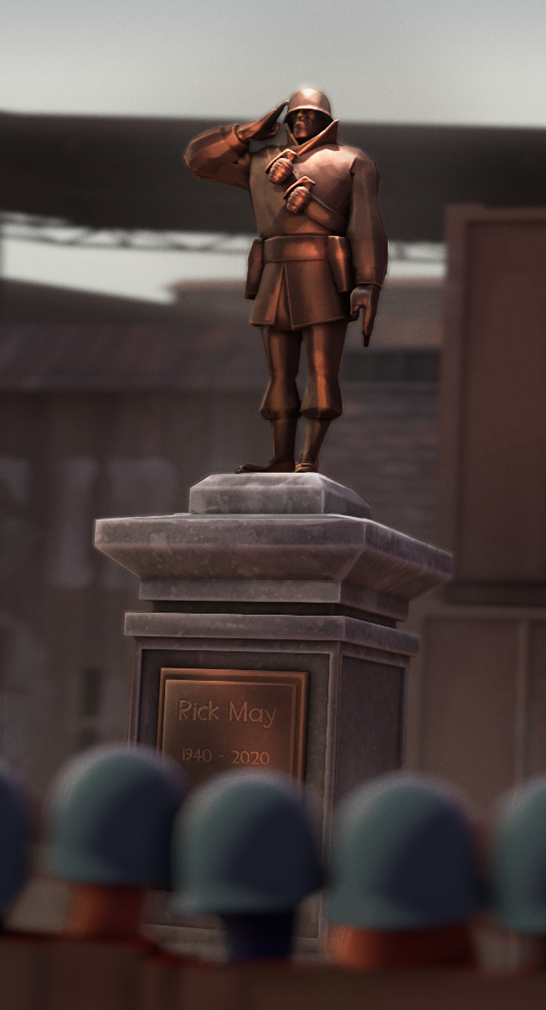 Rick May, the inimitable voice of the Soldier for thirteen years, many shorts and countless updates, passed away this April at age 79. We were lucky enough to work with Rick many times in the studio over the past decade. A quick-witted and kind-hearted collaborator, Rick endowed the character with a trademark bellow and bootfulls of idiotic charm. The Soldier wouldn't be the Soldier without him.
We are honoring Rick during the month of May with an in-game Soldier statue that will play some of Rick's signature lines. He will be missed by the Team Fortress dev team and community, and remembered for the indelible character he helped bring to life for so many years.
Merry Smissmas, Everyone!
December 16, 2019 – TF2 Team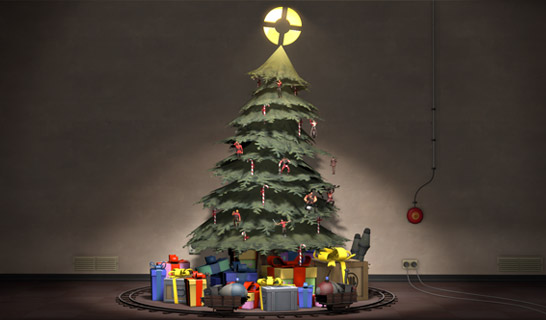 It's that time of the year again! Merry Smissmas!
New Community Cosmetics, War Paints, and Unusual Effects
We've added 18 new community cosmetics, 10 new community War Paints, and 17 new community Unusual effects! Plus, the Festivizer can be found as a bonus drop when opening the Winter 2019 Cosmetic Case, and the taunt Unusualifier can be found as a bonus drop when opening the Winter 2019 War Paint Case!
Big Sale in the Mann Co. Store
It wouldn't be Smissmas without the Spirit of Practically Giving. Look for 50% off tons of items, taunts, and tools in the Mann Co. Store through January 7th, 2020.
And last but not least… Stocking stuffers for everyone! Merry Smissmas! See you in 2020!
Insomnia65
August 12, 2019 – TF2 Team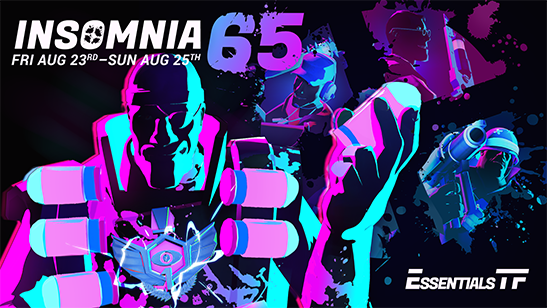 The biggest event on the Competitive TF2 calendar is back again! ​Teams and players from around the entire world will be heading to the National Exhibition Centre in Birmingham, England, to the ​Insomnia Gaming Festival for their chance at glory and a share of the prize pool. Taking place from Friday, August 23rd, to Sunday, August 25th, the event will feature three days of non-stop action and the highest level of competition the game has to offer.
If you wish to support the event there is an ​ongoing fundraiser​ where you can donate money or purchase a range of items; money raised goes towards the production, prize pool, and supporting the North American team, Ascent.NA, attending to represent their region.
Signups for the tournament are ​here​. However, if you can't make it, the event will be streamed both at the event and online by EssentialsTF over at their ​Twitch page​. For the latest information, be sure to check out ​LAN.TF​ to follow the tournament live.
Update on The Crate Depression of 2019
August 2, 2019 – TF2 Team
On the evening of Thursday, July 25th, a bug was introduced that allowed some older crates to grant an Unusual hat on every opening. We fixed the bug the following morning and decided to trade-lock the hats from the bugged crates while we evaluated the situation.
Over the past week, we have been discussing ways to address this situation with the goal of minimizing the impact on the TF2 community as a whole, while preserving the experience of customers who had simply opened a crate, made a trade, or purchased from the market on the 25th, unaware that a bug produced their item.
During our investigation we discovered that a small number of accounts acquired these hats and a smaller portion of those accounts acquired an exceedingly large number of them. Based on this, we've decided that if you currently own one of these Unusual hats, the first one added to your account will be made tradable. Any other Unusual you have received due to the bug will remain permanently trade locked. If you decide that you would rather not have these trade-locked hats on your account, you may instead elect a full refund on any number of them.
The number of Unusual items being made tradable represents about one month of the regular Unusual drop rate.
A few of you were concerned that you had done something wrong by opening a bugged crate, and proceeded to delete your hats. While we appreciate the concern, you didn't do anything wrong, so hats from bugged crates deleted before the tradable date will be restored to your accounts with the same restrictions described above.
Item tradability, restoration, and the refund support page will be made available in about a week's time. Refunds will be the full price paid for any hats, crates or keys bought on the Steam Community Market or Mann Co. store. We will post an update when that exact date becomes available.
We apologize for the inconvenience of this incident, and we've added safeguards to prevent incidents like this in the future.
Update Aug 16: One unusual per account has been made tradable as described above. Affected users should visit the following support page for information about affected items and to submit refund requests if eligible: https://help.steampowered.com/en/wizard/HelpWithItemBug
Copenhagen Games 2019
February 28, 2019 – TF2 Team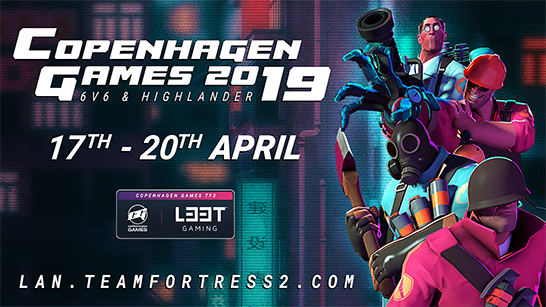 The neon bright cyberpunk future we were promised is on our burning horizon. On April 17th for four days, Team Fortress 2 will arrive in Denmark's capital for Copenhagen Games 2019!
L33T-Gaming provides a collective prize pool of €12,000 shared across their presentations of 6v6 and Highlander tournaments!
Seats are limited so book your place among the cybernetically enhanced* players now! For more information visit the tournament website and join the Discord. Watch all the games live on KritzKast's Twitch channel starting Thursday, April 18th.
*note: Cyberware implants will destroy your humanity; we advise against their use.